Professional and Managed Services
Accelerate Your Digital Transformation
Focusing on Your Company's Needs and Challenges
Our professional services are designed to support
planning (pre-sales support, design, testing and consulting);
building (staging, implementing, integrating, migrating, automating, and development);
running (lifecycle services, managing, and optimisation)
of your crucial business applications and services to help you optimise costs, provide international scaling, and drive new technology adoption.
Networking
With the industry moving quicker than ever, customers face difficult decisions on how to manage their technical teams effectively. Do they move their top talent to focus on new, emerging technologies or keep them on their core business supporting key customers (and associated revenue)?
Flint provides options to allow customers to outsource the staffing or service management of their legacy environment or, alternatively, offers services focused specifically on the introducing of new services.
Examples of new technology introduction include NFV onboarding, automation of legacy routers & switches, automation of software upgrade processes, SD-WAN, SASE and SD-Access.
Mobile
Flint's mobile heritage dates back to the founding of Flint and our contribution to the implementation of the early mobile packet core across Europe. Over the years, our team has evolved to provide both multivendor expertise and move with the industry to new virtualised solutions.
Today we offer services in areas such as vEPC, SGSN, GGSN, MME, CPS, PCRF, ePDG, and CUTO. With the advance of Mobile Private Networks and 5GaaS, we have also seen an increasing demand for our expertise in cloud and RAN. Mostly from the enterprise (or their traditional partners) as they are starting to move into Industry 4.0 and are looking for support in all areas mobile, including radio planning.
Automation and Orchestration
Understanding that the blast radius associated with a network-wide, automated command is significantly wider and faster than manual intervention, the partner you chose for your automation and orchestration projects needs to be experienced and capable. Vast system integration expertise coupled with top-of-the-line networking knowledge makes Flint ideally suited to assist you in this field.
Through our close partnership with large vendors, Flint has been involved in the early stages of today's preferred automation and orchestration technologies. Today our team not just develops and integrates these solutions but trains your top talent to use them too.
Some of the technologies we use: NSO, Crosswork, BPA, WAE, Blue Planet MDSO, ROA, UAA, Netrounds.
Data Centre
The cloudification of many legacy applications and services is changing the way we manage and operate data centres. A cloud-hosted model provides numerous benefits to both the economics of the network and the levels of increased agility that this provides.
Flint has seen a significant increase in demands for specialised skills and services to accelerate new technology adoption. Our experts support clients to find the best solutions to their challenges and have been supporting both end-customers and partners in introducing technologies such as ACI, DNA Centre, DNA Spaces, Intersight, IWO, AppDynamics, ISE, Hyperflex, Thousand Eyes, and a series of VNFs based on VMware.
Security
As the digitalisation of services and organisations progresses, the industry experiences a surge in cyber threats and attacks. Securing new cloud-based networks and services is one of the top priorities of today's business leaders.
Our security experts support our clients in areas such as firewalls, AnyConnect, ThreatGrid, Mail Sec, Trust Sec, Umbrella, Firepower, Secure Network Analytics, and AMP (for network and endpoints). We have further broadened our portfolio to include assessment and recommendation services for your unified communications infrastructure to ensure that your business remains secure in a new environment of hybrid and remote workplaces.
Software Development
Part and parcel of an automation and orchestration engagement will be creating user-specific software to address the use case that has been jointly identified. The Flint team draws on expertise in several technologies and programming languages to ensure that your bespoke solution will fit into your environment. We will provide you with a scrum team either working to a traditional waterfall methodology or more often as an agile engagement, to develop and quality assure the software you or your clients need.
Our team works with technologies such as vRealise, C#, MSSQL, ASP.NET, AngularJS, MySQL, Python, Perl, Ansible, Gitlab, Docker, Jenkins, PHP, Puppet, C/C++, Bash, Java, and NEO4J.
Work with Flint!
Our services are designed to reduce cost, accelerate new technology adoption, and provide international scaling for you. Let's get to work.
Get In Touch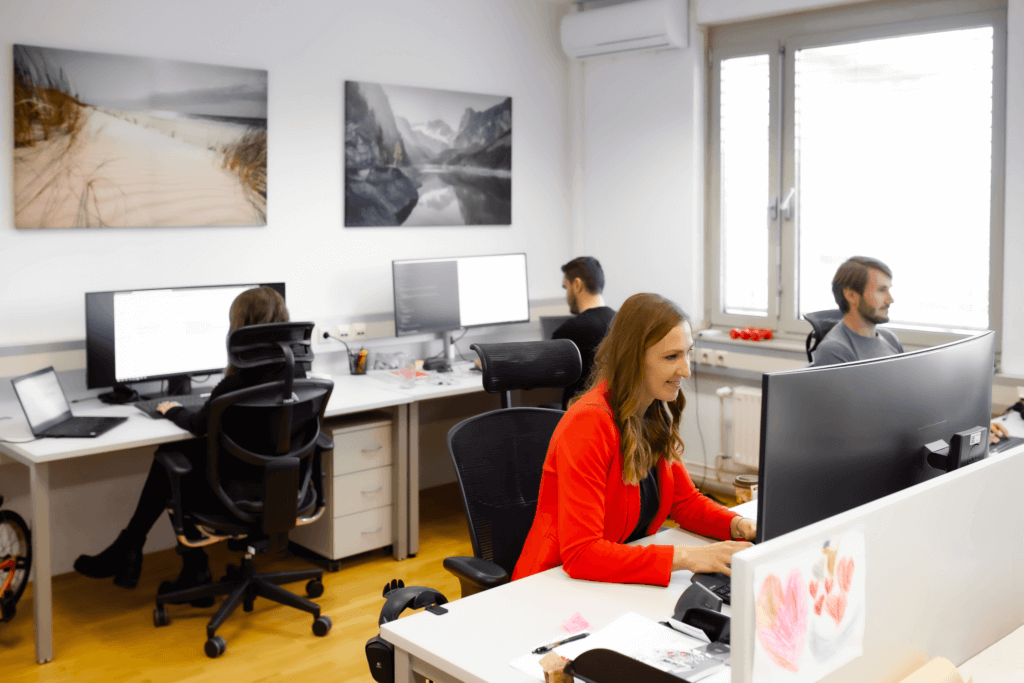 Our Centres of Excellence
The growing complexities of today's networks and our customers' increasing demands have inspired us to create Centres of Excellence that specialise in specific technological areas. They are designed to address our customers' needs for expert skills and accelerate the delivery of projects.
Our Centres of Excellence grant knowledge to circulate freely from solution architects to implementation engineers and allow us to scale up and down on manpower depending on project requirements. This supports the sharing of best practices, an optimised workflow and ensures the creation of comprehensive solutions to intricate problems in a time and cost-effective.
Among others, we provide professional services, consulting and support in the following areas to build, plan and run your network or applications:
pre-sales consulting, scoping and bid response
technical (HLD/LLD), NOC/SOC, and data centre design
regression and interop testing
programme and project management
installation, commissioning, implementation, and integration
migration, network automation, and software development
security policy introduction
level 1, -2, and -3 support
software release management and automation
policy, configuration, and SLA management
network optimisation