Permanent Recruitment
Helping you find and secure the best talent
OUR EXPERTISE:
RPO
MANAGED SERVICES
HEADHUNTING
Who are we?
An international ICT services company with more than 20 years of experience
Over 20 years of experience with the industry's largest global ICT vendors.
Our in-depth knowledge of the industry and technology gives our company a unique understanding of our customers' challenges and objectives.
Specialists in Strategic Resourcing, Professional and Managed services, and Learning and Content Development services predominantly within the ICT industry.
If your company is looking for
the following profiles:
Software Developers
Network Engineers
Project Managers
Global Sales and Marketing
C-suite Executives
Get In Touch
Our Recruitment Expertise
Global Compliance Helping you scale and grow in a compliant and agile manner through our international regional entities.
Global Customer Base Shared best practices and experience from 20 years of supporting our key customers in both the Service Provider and Vendor  segments.
Technical Sourcing by Technical People Shared best practices and experience from 20 years of supporting our key customers in both the Service Provider and Vendor segments.
Right first time Our telecoms background has driven a carrier class delivery model ensuring a – right first time, every time – approach to project assurance.
Solving Customer Problems Focusing on addressing your commercial, contractual or compliance challenges at home and overseas.
The Flint Way You can expect the Flint team to always work in a Professional and Innovative manner across all our staff and across all our locations.
Fill Rates Our dedicated team have an average 82% fill rate, impressive time to hire and excellent satisfaction rates.
Addressing Your Resourcing Needs
Staff Augmentation:
contingent workers
permanent placement
consulting services
Managed Teams:
functional management
PMO services
Staff Augmentation
Enhancing your global capability or capacity with specialised teams or individuals. At Flint, we leverage our engineering heritage to deliver technical staffing by technical people. Thus we drive a significant reduction in sourcing time by using our expertise to filter out candidates who aren't an appropriate fit. Through this we can remove an average 7/10 that don't hold the correct technical expertise or soft skills.
A contingent worker-based workforce allows a company to expand their footprint whilst avoiding both the high, fully loaded costs that come with permanent employment and the constraints that prevent scaling up and down based on customer demand. Therefore, staff augmentation from Flint reduces your time to market, provides a more cost-effective workforce, and seamlessly supplements your existing organisation.
Managed Teams
In many scenarios, a company may be looking for Flint to provide a complete team to satisfy a customer requirement or business function. The principles behind finding and screening the resources required to deliver this function are exactly the same and vary only either by the volume or consumption model that the customer may be looking for. In some cases, we see organisations look to out-task the formation of a team to Flint to either launch a new service or build a delivery capability in a new geography. In other cases, this may be a step towards launching a new venture where the business case to invest in a permanent team may not be justified on day one. However, over time, as critical mass is achieved, it may well then become a function that the customer would like to bring in house.
We have also seen this used as a stepping stone towards a service-based delivery model. A good example of this is where we see customers ask us to form a project and programme managers team. In these instances, significant benefits can be found from shared utilisation across multiple projects rather than following the traditional path of dedicating a PM to a single engagement. As such, we h
Work with Flint!
Our services are designed to reduce cost, accelerate new technology adoption, and provide international scaling for you. Let's get to work.
Get In Touch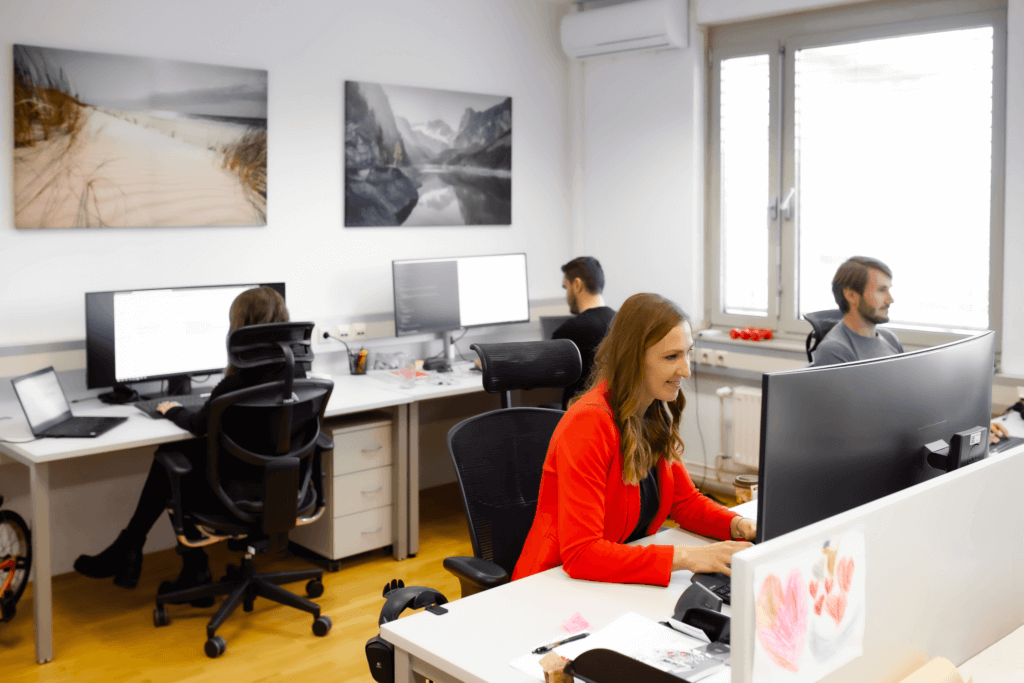 Meeting Your Objectives – Globally
Currently, Flint has over 1800 contractors deployed in more than 40 countries throughout Europe, the Middle East, Africa, Russia, Asia, and North America. Our legal entities address local compliance or regulatory concerns and supply our clients with insights into the local market. For more information on services specific to your region of interest, contact your local Flint office.
Leverage our expertise.
Let's connect.