We Are What
We Know!
This statement claims our identity,
our sense of self, and who
we are as a company.
Our Company
Flint is an international ICT services company with more than 20 years of experience helping customers solve their business challenges. We are deeply rooted within the tech community, with Flint starting its journey as an engineering company in 1999. In-depth knowledge of the industry and technology gives our company a unique understanding of our customers' challenges and objectives.
Our Services
We specialise in Strategic Resourcing, Professional and Managed services, and Learning and Content Development services predominantly within the ICT industry. Our services are designed to reduce cost, accelerate new technology introduction, and provide international scaling for you.
Our Team and Offices
Flint's team of 1800 currently supports over 50 customers in more than 40 countries throughout Europe, the Middle East, Africa, Russia, Asia, and North America. More than 15 local offices provide our clients with local market insights and help solve compliance issues.
Flint International
Placeholder
Flint International
Placeholder
Our Mission
Support the growth and vision of our customers by providing exceptional services and exceed their expectations. We want to be recognised as a provider of professional services of the highest quality in all the countries we operate in, within the Flint values of professionalism, caring, and innovation.
Strong Customer Relationships
In our rapidly changing industry, we are the supportive extended hand to our customers and help them reach their business objectives. We are highly focused on solving our customers' challenges at home and overseas, approaching every project with a 'right first time, every time' frame of mind. At Flint, we build strong customer relationships, some already spanning more than 20 years, and recognise our customers' success as our success.
Technical Expertise and Drive for Innovation
Our roots as an engineering company have instilled a strong zest for technical excellence, agility, and innovation. We provide best-in-class, technology-centred recruitment services led by technically trained specialists ensuring you only receive fully qualified and screened candidates reducing your time to hire. Furthermore, we boast an extensive team of in-house engineers offering managed and professional services at the leading edge of technology, supporting your growth into new technologies.
Global Reach and Consistency
We support you to scale and grow in a compliant and agile manner through our international entities. With market insights and local experts, we help you enter some of the most challenging economies around the globe. All our offices share the same best practices and values ensuring you to get the same quality of service and experience whether you are partnering with Flint in Dublin, Durban, or Dubai.
Professional
At Flint, we are always forthright, respectful, and transparent. Our working style is straightforward and honourable. We always seek to provide a high-quality customer experience, offer comprehensive solutions to our costumer's challenges, and complete all tasks right the first time. We respect and embrace the diversity of our customers, colleagues, and associates. For us, professionalism also means bringing the best version of ourselves to the office and understanding we are the strongest when working together, step by step, making our best even a little better.
Innovative
Innovation is our drive. We pride ourselves on adapting quickly to new challenges, best practices, and technological advancements. The ICT industry is continuously transforming, that is why we need to show great agility, flexibility, and creativity and deeply respect the knowledge, skills, ideas, and capabilities that each employee brings to the Flint Team. Our innovation is based on continuous learning and development. We are open-minded, and we have the courage to embrace new information, new ideas, and new ways of thinking to deliver the best solutions for our customers.
Caring
Ask any of our customers or staff; we care. We care about their challenges, needs, and problems. We care about our employees, their families, and their well-being.
Flint is a global company, working with people from different backgrounds and cultures. We believe in equal opportunities for all and the importance of diversity and inclusiveness. We feel that it is important that we can all be ourselves in the workplace. This creates an open, honest, and genuine environment. We can be personable, honest, approachable, and fair but at the same time excellent businesspeople.
Work with Flint!
Our services are designed to reduce cost, accelerate new technology adoption, and provide international scaling for you. Let's get to work.
Get In Touch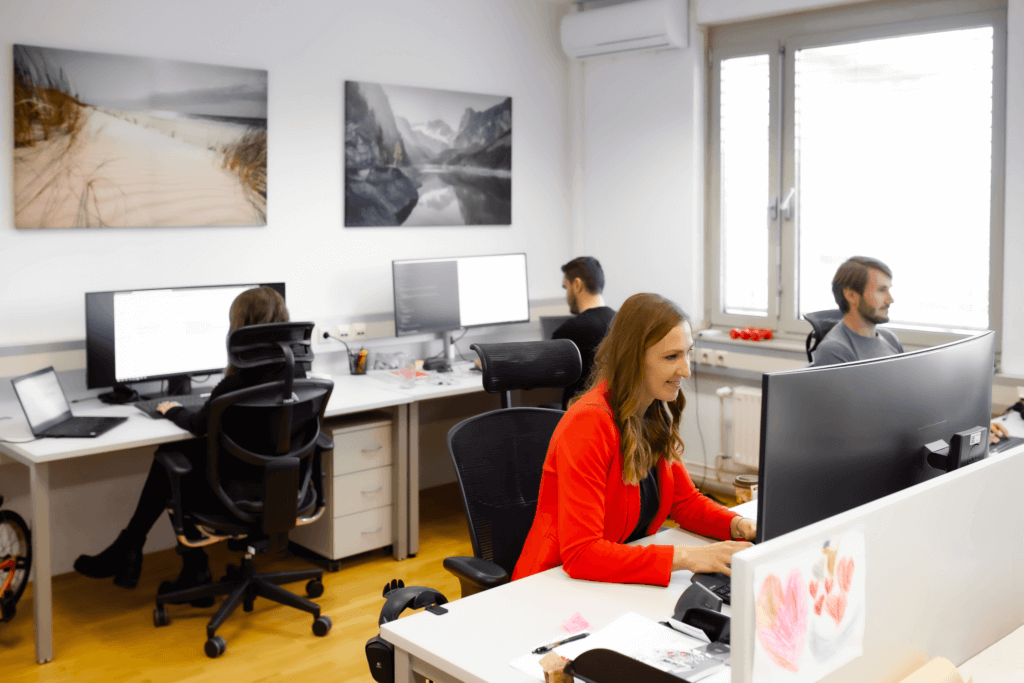 Social Responsibility
As a company and community, we are conscious of the social and environmental impact we have. We want our services and
products to help build and be part of a sustainable future and are committed to the practice of responsible corporate behaviour.
Ethical Policy
Flint seeks to protect and promote the human rights and basic freedoms of all its employees and those who contribute to the success of our company. Put simply, as best we can, we would like to treat others, whether that be customers, employees, suppliers, or wider stakeholders as we would wish to be treated ourselves.
Employee Care
We believe that our workers are our most valuable resource and are committed to their well-being.
Flint is devoted to providing, maintaining, and promoting a healthy and supportive work environment that ensures the physical and mental health of all our employees. Open and honest conversations with our employees about their health and safety are a priority to us.
The World Health Organisation (WHO) has declared stress the health epidemic of the 21st century. At Flint, we recognise the very real detrimental effects stress and other mental health issues can have on our workers. We strive to provide effective support in managing stress and recognise that the prevention of stress is easier than dealing with it once it has arisen.
Prevention of Modern Slavery and Bribery
We vehemently oppose the use of slavery in all forms (see our Modern Slavery Statement) and will not enter into any business agreements with any person, company or organisation which fails to uphold the human rights of its workers or who breach the human rights of those affected by the organisation's activities. Flint fundamentally opposes any acts of bribery and encourages all employees to report any suspicion of bribery within our company.
Anti-Discrimination and Anti-Bullying
Flint stands firm against any form of discrimination on the basis of race, sex, pregnancy and maternity, marital or civil partnership status, gender reassignment, disability, religion or beliefs, age or sexual orientation. All our employees and associates are treated equally with respect and dignity. We do not accept any corporal punishment, harassment, or bullying in any form.
Environmental Sustainability
Our management and employees are committed to contributing to a sustainable future, continually improving our environmental performance, and monitoring our progress against set objectives. We believe that we all share the responsibility of taking care of our environment by being conscious of our actions.
At Flint, we promote paperless practices, recycling, and water conservation throughout our international offices. Most offices have abandoned plastic and paper cups, cutlery, and plates, providing, and encouraging the use of reusable alternatives. A lot of our employees work remotely at least part time, reducing commuting times and, therefore, producing fewer emissions. We are conscious that the nature of our work demands a lot of travel, but we are devoted to limiting it to essential trips and prioritise carrying out our engagements remotely.
We are committed
to ensure compliance with all applicable environmental legislation and regulations;
to reduce emissions and prevent pollution;
to improve waste management practices;
to reduce consumption of natural resources;
to minimise noise and other nuisances;
to assist in the management of ecology;
to continuously assess our environmental performance;
to continually improve our environmental management system and to enhance environmental performance;
to encourage sustainable resource use, climate change mitigation, protection of biodiversity, and ecosystems;
to assist in the investigation of environmental incidents in which we are involved on operational sites.
Through our commitment, we want to do our part in preserving our environment and help building a sustainable future.
Leverage our expertise.
Let's connect.
Providing Additional
Capability and Capacity
to Our Key Customers
Technical Heritage
Flint's history builds upon its technical heritage, initially in mobile and more recently in automation and orchestration. Over the years, we have launched several successful regional entities and expanded into new and emerging technologies. Our development and growth have been largely enabled by our drive to listen to our customers and solve the business problems they present to us, whether this means acquiring new engineering skills or moving into new geographies to solve compliance issues and get unique market insights.
A Multinational Company
From humble beginnings, five mobile engineers have created a multinational company with offices throughout Europe, the Middle East, Africa, Asia, and North America and formed strategic and long-term relationships with some of the industry's most influential and innovative players.
International Offices
Flint is a truly international company with office throughout the globe. Explore our regional entities.
Flint International
BRE Building 3, Bucknalls Lane, Garston,Hertfordshire, WD25 9XX, United Kingdom
+44 1923 677733
Meet our Leadership Team
Our people make the difference. Meet Flint's senior leadership team, which guides and supports our exceptional staff of 1800.
0
+
Years in the ICT Industry